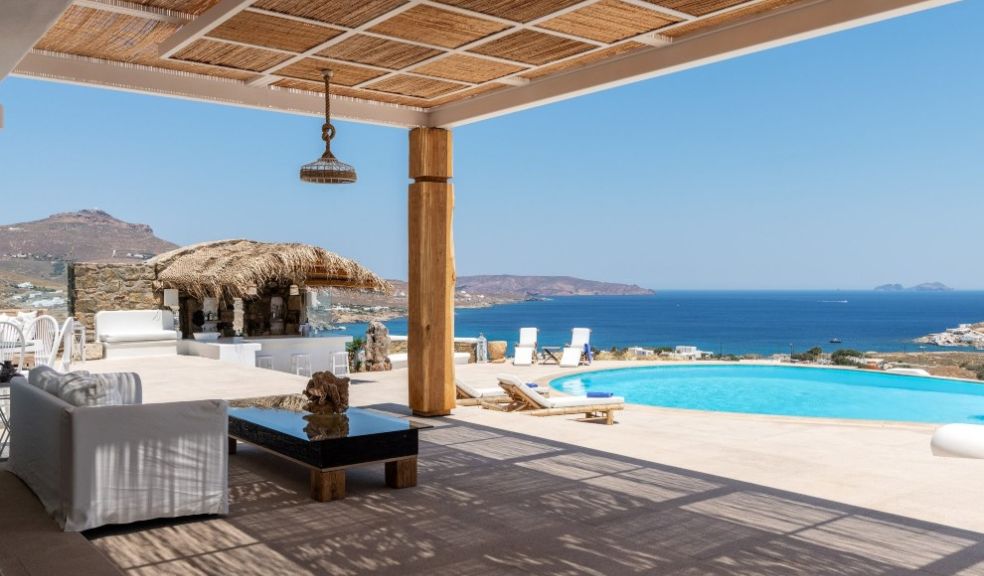 Travel News: Epoque Collection Introduces Alegria Mykonos, An Elegant Estate in Greece's Island of Winds
Where pure elegance meets infinite holiday luxury
Epoque Collection, the luxury boutique hotel management company, is proud to introduce the astounding Alegria Mykonos, the fourth property to join the incredible portfolio of meticulously selected five star hotels, after the additions of OMMA Santorini, Kefalari Suites and xenodocheio Milos earlier this year. Alegria Mykonos is a 7-star award-winning, serene luxury villa set on the thrilling sought after island of Mykonos which invites holiday guests to indulge in a journey of self-discovery. The sprawling family-owned estate has been carefully developed to become the leading destination for those looking for an exclusive getaway providing plenty of privacy, luxury, and a place to create lifelong memories. Dripping in elegance, the villa sleeps up to 30 guests, with 13 bedrooms and suites, a stunning spa, fully equipped gym, large heated pool, sauna,  jacuzzi, heli pad, small chapel, and so much more; guests can rest assured this promises to be an unforgettable experience. Boasting a unique, private setting for quiet family getaways as well as a breath-taking location for exquisite events and celebrations, Alegria Mykonos can tailor all services to provide the holiday of a lifetime. It's no wonder that throughout the years, Alegria Mykonos has been home to a number of Hollywood's most famous and influential people, and will no doubt delight new visitors with its premium, high-end offering.
Stylish Suites
As the largest hotel-serviced exclusive villa-estate on the island, Alegria Mykonos presents a setting for utter relaxation with spacious rooms, all stylishly decorated and equipped with contemporary and luxurious features with attention to the smallest detail. Of the 13 rooms, there are six suites and seven master bedrooms. Guests will put their feet up at the end of a long day in the beaming sunshine, admire the beautiful Aegean sea views and appreciate the sublime elegance of the villa which provides pure privacy.
Mediterranean Cuisine & A Private Bartender on a 24-hr Basis
As with all properties in the Epoque Collection, the gourmet offering at Alegria Mykonos offers exquisite flavours and a refined dining experience. Guests have the option to start the day with the signature breakfast buffet or indulge in the A La Carte menu, with all meals tailored to cater for all dietary requirements and preferences. Using local ingredients, the two chefs will deliver tantalising flavours and magnificent Mediterranean food, ensuring an authentic Greek experience. From fresh seafood and nourishing salads, tucking into the divine delicacies of Mykonos will be remembered for years to come. Cool down with a refreshing cocktail while watching the sunset as the bartender and butler attentively ensure that all needs are taken care of.
A Serene Spa & Wellness Experience
After a long day in the sun or an evening enjoying Old Town's bustling nightlife, Alegria Mykonos's wellness team will soothe the senses with revitalising treatments in a tranquil setting. Wind down and relax with the extensive range of personalised exotic therapies and exclusive health and beauty treatments which are designed to awaken the senses and restore the natural balance of the body. Enjoy a moment of pampering in the villa's vast and impressive spa facilities which include a jacuzzi, infrared sauna and heated pool. Alegria Mykonos will encourage guests to embark on a journey of wellbeing, happiness, relaxation, and fitness. Fitness fanatics will break a sweat while immersed in dazzling sea views, taking motivation from the island's surroundings. Yoga, pilates, aqua aerobics and even fitness activities for children, can be curated upon request to encourage the whole family to take part.
Private Events Unique Venues with Dazzling Views
Not only is Alegria Mykonos the only location on the island able to host large-scale, premium, year-round events, but also has three venue options to choose between. The poolside venue can host up to 220 seated guests with sprawling sea views, the garden venue can host up to 700 seated guests with the mesmerising minimalistic chapel as the unique central point, and the estate event area hosts up to 2,200 guests seated and standing and includes the garden setting and additional space. Each event venue is supported by an experienced events team providing guests 24/7 event planning services to ensuring the highest standard of attention to detail ahead of the event. Alegria Mykonos is looking forward to welcoming guests the opportunity to get together in large groups and celebrate in a magnificent canvas setting and create truly magical moments.
Unforgettable Island Experiences
Alegria Mykonos provides a home away from home with endless activities to keep all ages entertained, including an open-air cinema experience. Venturing outside of Alegria presents a perfect opportunity to explore the stunning beaches, with the villa being set between two of the most alluring beaches in Mykonos, Kalo Livadi & Kalafatis. Alegria is a Mykonos connoisseur and will curate bespoke activities for guests to ensure an unforgettable trip of a lifetime. Reach new heights in a helicopter ride, spoil a loved one with a private shopping trip visiting the very best of the island's boutiques in Old Town, or set sail on the Aegean Sea to complete the ultimate island adventure. Alegria Mykonos can offer several supreme experiences at an additional cost, including but not limited to a personalised wine cellar, a meat dry ageing fridge cabinet, sommelier service, wine tasting and a shisha and cigar menu.
Alegria Mykonos is a secluded and serene villa estate, providing the ultimate luxury getaway to be enjoyed with a large group of friends, extended family or large number of guests for an evening of celebration. Take advantage of the 7-star tailor made services and create an exclusive event, partying the night away at this incredible venue. Alegria Mykonos is the gateway to discovering the island's secrets and hidden gems, providing the opportunity to experience the island of winds like never before.
Nightly rates at Alegria Mykonos start from 6,900 euros per night